Would you do these types of winter weddings?
A New Years Wedding?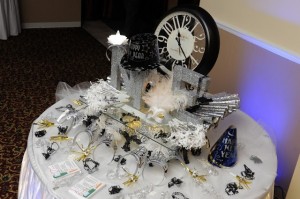 The News Years is a time to celebrate new beginning. Might be a great time to tie the knot!
A Winter Cabin Wedding?
Fun in the snow with skiing, snowshoes and more. How about a Rustic – glam winter getaway DIY wedding?
How about the Great Escape- Destination Wedding?
Breaking Wedding Traditions
blog by Events Expert, Madeline Begley
Nowadays, wedding ceremonies & receptions have strayed from the once traditional & old-fashioned ways.  Men are no longer the only one's doing the proposing, some couples choose to forgo the traditional church ceremony altogether and just elope, the bride's family isn't necessarily responsible for paying for the entire wedding and in some cases the bride and groom choose to see each other BEFORE the ceremony!  I know, crazy right!?!? Not really…this is actually becoming more of the norm. Of course, there are still plenty of couples who stick with certain traditional practices, but it is no longer uncommon to switch things up and customize your wedding day to your own personal preferences and personalities.
One question I constantly get is, "What do I do if I only want adults at my reception? Is that rude to my guests with children?" It is actually not rude. It is YOUR wedding day, and you can choose to do whatever you would like. Just make sure you let your guests know when you send out your invitations. In order to not offend any of your guests with children, it is a nice idea to include a handwritten note that states how much you would love to invite their children, but can only allow them at the ceremony. Most guests will be understanding and will comply with your wishes on your special day. Remember, this is a day that is meant to celebrate your unity as a couple, so plan it the way YOU want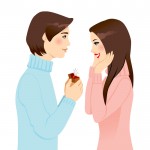 Congratulations you're engaged!
Now let's start with Step #1
9-12 Months:
Create a budget, who is paying for what? This helps as you go through each part of the planning and in deciding what the most important aspects of the wedding are. Consider hiring a wedding coordinator, I don't just say this because I plan weddings but because there
Hey here is a site we LOVE , check it out; Want to do your own invitation? Here is a company we found and they are AWESOME, UPrinting.com  check them out, http://www.uprinting.com/invitation-printing.html Perfect for the DIY weddings , this site is easy to navigate with  step by step instructions  and features, cost effective and well, just  downright fun. We were amazed at so many things to do. So make your wedding personal , not only with the invitations, but the save the date cards table tents, poster, labels. poster, you name it –  you can do it with UPrinting.com
 Have an  unusual problem, odd situation or just plan